Dracaena braunii, more commonly known as Lucky Bamboo, is a great vivarium plant to have in any enclosure.
Although most people consider Lucky Bamboo more of a houseplant, with the right environmental conditions it can thrive in an enclosure with or without animals.
It is great for beginners who are still new to the vivarium world as it is relatively easy to care for, as long as you understand the environment it needs in order to thrive.
Quick Stats:

Scientific Name

Dracaena braunii

Common Name

Lucky Bamboo, Ribbon Dracaena

Family Name

Agavaceae

Habitat

Tropical and Subtropical regions

Temperature

68°F to 82°F

Height

6 to 10 inches

pH

6.0 to 7.0

Lighting

Bright, Indirect
What Is A Lucky Bamboo?
Dracaena braunii, also known as lucky bamboo, is a species of flowering evergreen perennial plant native to tropical and subtropical regions of Africa and Asia.
It is a compact plant characterized by 2-4 canes, each topped with a tuft of foliage.
Lucky bamboo is made up of soft but sturdy clumping stalks that are easy to care for and grows in densely packed sections.
It is a popular houseplant that has made its way into the vivarium hobby due to its unique aesthetics and easy care.
Lucky Bamboo Facts
Although considered a type of bamboo, Dracaena braunii is not related to true bamboo!
It has been given the nickname "lucky bamboo" due to its symbolism and representation of good luck.
Lucky bamboo is a type of plant that is said to bring positive energy into a space.
It is also believed to bring good fortune, health, prosperity, and longevity when grown in an area.
Lastly, it is one of the most popular plants used in Feng Shui due to its meaning and symbolism. 
Description
Dracaena is a short, compact plant that usually grows to be about 6 to 10 inches tall with a few long, thin stems.
Its stems are a deep shade of green, sometimes with yellow striations along the sides. Each stem is topped with a tuft of small, narrow dark green leaves.
Lucky bamboo is easy to shape because of its soft woody base and its stems can be wound around driftwood and rocks within the vivarium.
Habitat
Dracaena are native to tropical and subtropical regions of Africa and Asia.
It is commonly found in moist, warm regions with high levels of humidity and indirect light.
PH Preference
Dracaena prefers a slightly acidic to neutral pH level of around 6.0 to 7.0. Any other PH level could cause the plant's leaves to yellow or develop brown spots.
Vivarium Type
There is no set type of enclosure that the Lucky Bamboo must be grown in. In fact, they can do very well in a variety of vivarium types.
One of the most important things to keep in mind when choosing the appropriate enclosure is the amount of space available.
In addition, Dracaena braunii should also be provided with tropical and moist terrain areas. Here are recommended vivariums it will do well in:
Paludariums – Half aquatic/ half terrain-based enclosure.
Terrariums – Fully terrain-based enclosures with little to no aquatic features.
Ripariums – Mostly aquatic-based enclosures with some terrain features present.
Vivarium Placement
Dracaena braunii requires bright, indirect light. If you have one of these Lucky Bamboos in your vivarium and are wanting to display it in the foreground, you will need to make sure it does not get direct sunlight, or else the leaves will scorch and die.
This plant can also do well in higher levels of humidity if not constantly submerged in water but it should never be submerged fully.
Substrate
Dracaena's substrate preference is moisture-rich soil that is not just damp but not too wet either.
Soil should be very porous and free-draining, with additional organic-rich material such as peat moss, vermicompost, or a terrarium substrate mix.
Lighting
Dracaena should be placed in bright, indirect light. While it tolerates partial sunlight, too much will burn the leaves and cause damage to the plant.
When setting up lighting within the terrarium, avoid any type of light that produces UV. Aim for cooler color lights that mimic a partially shaded forest, like LEDs!
Buy Lucky Bamboo
When it comes to buying a Lucky Bamboo, there are a few things to keep in mind. Making sure that the plant being bought is healthy is essential for its success in a vivarium.
Vegetation that is already in poor conditions, will have a very hard time adjusting to new environments.
Always make sure to buy from a reliable and honest establishment. Whether it is an online store or a physical location should not matter.
In addition, always check the foliage closely for yellowing, wilting, black spots, or any signs of damage.
Pay close attention and look for any pests or fungal diseases. Inspect both sides of the leaves to avoid missing any red flags.  
Click the image below to find out more about the current price and other relative info about this plant: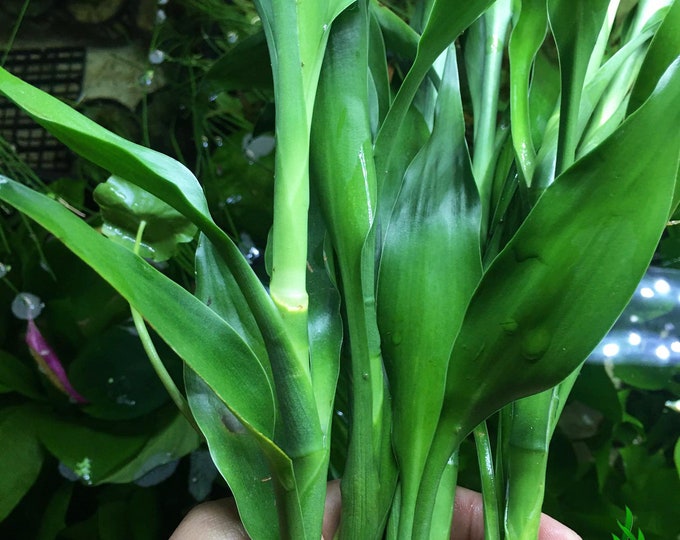 Lucky Bamboo Care and Propagation
Dracaena Braunii is not as easy to propagate as moss or other low-light plants but with patience, it can be done.
You can propagate new plants from stem cuttings by cutting off pieces of a stem and putting them into rooting hormone and then potting them in soil.
It generally takes around 8-12 weeks before the cuttings have enough of a root system to get it to the point of transplantation.
How to grow
To get the best growth out of Dracaena Braunii, it is important to keep the soil lightly moist all the time.
Water it when the top inch of soil looks dry and never let it get soggy. Fertilize your Dracaena Braunii with a balanced liquid fertilizer, every two weeks during the growing season and every month during the winter.
Watering
When watering your Dracaena Braunii, it is best to use soft, acidic water.
Chlorinated tap water can cause the leaves to burn, so if you use tap water, give it some time to sit out to allow the chlorine to evaporate before using it.
You should also mist the foliage of the plant once a week. This is important as it increases the humidity in the air and prevents the leaves from drying out.
Plants Similar To Aluminum Plant
Adding diversity to an enclosure is key to an aesthetically pleasing setup. Try mixing up the look of your vivarium with different flora that can easily co-exist in the same types of environment.
Furthermore, if for some reason you find lucky bamboo hard to acquire or would like to consider something similar to this plant…
Here are some other tropical plants you might find may do well with or in the place of dracaena:
Conclusion
Dracaena braunii is a great tropical terrarium plant that is easy to care for and adds a lot of visual interest to your enclosure.
With the proper lighting, water, and environment, this plant which is usually seen as a houseplant can be grown just as well in a vivarium.
With its simple care needs and well-deserved place in Feng Shui, Lucky Bamboo is an ideal companion to any terrarium.
Frequently Asked Questions