Do you own a pet springtail? Have you noticed that it needs special attention when it comes to springtail food?
Springtails are miniature critters that are incredibly sensitive to their environment, so when it comes to their meals, it's important to provide them with the best possible food.
If you're wondering how to feed your pet springtail, you've come to the right place!
In this article, we'll discuss everything you need to know about the type of food springtails require, where to buy it, and how to create DIY springtail food right at home.
What Do Springtails Eat?
In nature, springtails eat a variety of decomposing organic matter, such as leaves and decaying plants. They can also feed on microscopic organisms, such as bacteria and fungi, as well as a larger organic matter like detritus and pollen.
In captivity, it may be hard to replicate this kind of diverse diet, so special care should be taken to ensure that springtails are receiving all of the essential nutrients that they need to stay healthy.f
DIY Springtail Food Recipe
If you're feeling optimistic or a skeptic health nut like I am, opting for a DIY option is also a possibility. Try making your own springtail food with the following ingredients:
Total Time

15 Minutes

Servings

20 Colonies
Ingredients
1 Cup of Oats

1/2 Cup of Flour

2 Tablespoons of Yeast

2 Tablespoons of Powdered Milk

1 Tablespoon of Ground Eggshells

1 Teaspoon of Fish Food
Instructions
Mix all the ingredients together in a bowl until well combined.
Place a square of moist paper towels on a plate (or shallow dish).
Sprinkle the food mixture on top of the moist paper towel.
Place the plate in the enclosure and allow the springtails to feed.
Replace the food every few days with a fresh batch.
Pro tip:
Use a blender to evenly grind this mix into an easy-to-serve and digest powder!
Buy Springtail Food
Buying springtail food is a convenient and cost-effective way to provide your springtail with the nourishment that it needs.
There are various companies that offer springtail food for sale online. You can also look for natural springtail food such as brewers yeast, hang-dried bloodworms, or live foods such as fruit flies, though these need to be added in moderation to ensure a balanced diet.
It's important to carefully read the instructions provided on the packaging or website to ensure that you feed your springtail the correct type of food for their species.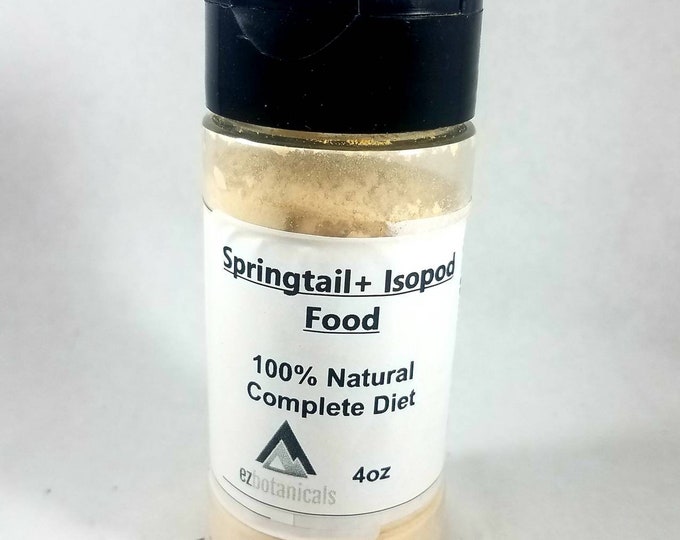 Common Mistakes 
When it comes to feeding springtails, there are a few common mistakes that you should try to avoid. Firstly, springtails require a healthy mix of protein, carbohydrates, vitamins, and minerals.
Unfortunately, when it comes to slow-moving species like springtails, their diets can be easily unbalanced if they're not given a proper supply of food. This can lead to health problems such as malnutrition. 
Another mistake you should avoid is overfeeding. Springtails typically prioritize decaying food more than they prioritize processed food, so they don't need to be fed as often as other insects.
Overfeeding can result in an unhealthy accumulation of uneaten food which, in turn, can compromise the quality of your springtail's habitat. 
Finally, it's important to remember that, like all insects, springtails can quickly become overwhelmed by extreme environmental conditions.
To prevent the worst from happening, you should feed your springtails on a consistent schedule and keep their food contained within their habitat. 
This will ensure that you're giving them the best possible diet. 
Conclusion
Feeding springtails in terrariums the right food is essential to their health and longevity. Now that you know what they eat and how to feed them, you can ensure your pet has the nutrients needed to thrive.
Keep in mind that different springtails have different nutritional needs, and it's important to do your research before choosing a food for your pet!
With the tips mentioned in this article, you're now well-equipped to provide your springtail with the best food possible.
Frequently Asked Questions