If you're looking for the definitive isopod food guide, you've come to the right place. As an experienced isopod feeder, I know what goes into creating balanced meals and finding the right snacks for my critters.
I've experimented with diets, tested out different foods, and crafted creative meals for maximum enjoyment.
Through trial and error, I've compiled the ultimate isopod food guide so that anyone can learn about best feeding practices.
From finding proteins and other nutrient sources to crafting snacks and treats, I'll provide the basics you need to know to feed your pet isopods a healthy and sustainable diet. Let's get started!
What Do Isopods Eat?
In the wild, isopods feed on decaying plant and animal material. They search for dead leaves, wood, decaying fruits, and insects as their main sources of nutrition.
For added nutrition, they'll even eat the feces of other animals!
In captivity, most isopods can be fed a finely blended mix of popular pet food such as decaying feeder fish and crickets to fruits, and vegetables.
Vegetables such as apples, carrots, mango, and spinach are excellent for supplying vitamins and minerals. Insects, particularly black soldier fly larvae, can provide an excellent source of protein.
Mealworms, fruit flies, and similar food items should also be included for variety. As treats, isopods can eat raisins, molasses, and mashed potatoes.
DIY Isopod Food Recipe
Making your own isopod food is a fun way to ensure your isopods are getting all of the nutrients they need. Here's a step-by-step guide for the perfect DIY isopod food.
Total Time

15 Minutes

Servings

10 Colonies
Ingredients
2 cups of potato flakes

- 1/2 cup of crushed egg shells

1/2 cup of bee pollen

1/2 cup of spirulina powder

1/2 cup of black soldier fly larvae

1/4 cup of chopped mixed vegetables (carrots, broccoli, bell peppers, etc.)

1/4 cup of mixed fruit (strawberries, apples, bananas, etc.)
Instructions
In a large bowl, mix together all of the "dry" ingredients: potato flakes, egg shells, bee pollen, spirulina powder, and black soldier fly larvae. Make sure all the ingredients are evenly distributed throughout the mixture.
Add in the chopped vegetables and fruit and mix everything together until everything is fully combined.
Transfer the mixture to an airtight container and place it in the refrigerator. The mixture should last up to three months.
When it's time to feed your isopods, gently scoop out a tablespoon of the mixture and feed it to your terrarium pets.
Enjoy watching your isopods devour their home-made treats!
Pro tip:
When feeding your isopod, make sure to only give them as much food as they can eat in one sitting. Any leftover food should be discarded.
Buy Isopod Food
Buying isopod food online is a convenient way to ensure your critters are getting the nutrients they need. With an array of options, you can find the perfect foods for your isopod's preferences and dietary requirements.
Dried bugs, enrichment dust, freeze-dried insects, and complete diets are all available at reputable online stores that abide by animal welfare regulations.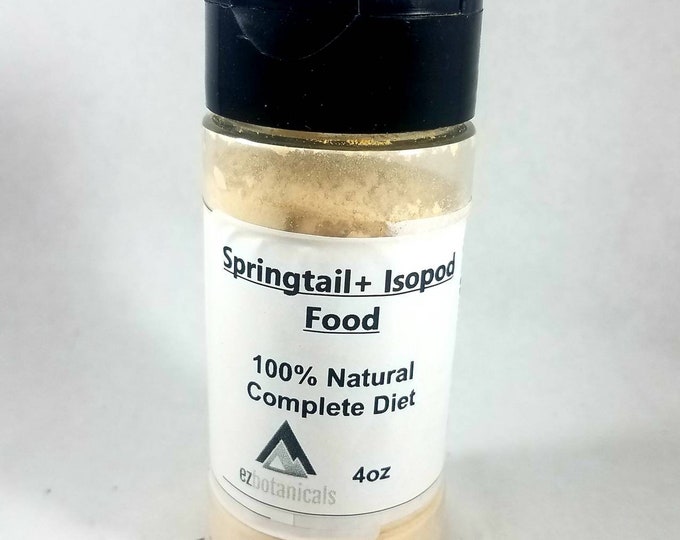 How To Feed Isopods
This step-by-step guide will provide you with all the information you need to feed your isopods.
It will help you understand what food items are appropriate, how to prepare the food, where to place the food, and how to monitor the feeding process.
With this guide, you can ensure that your isopods are getting the proper nutrition they need to stay healthy and happy.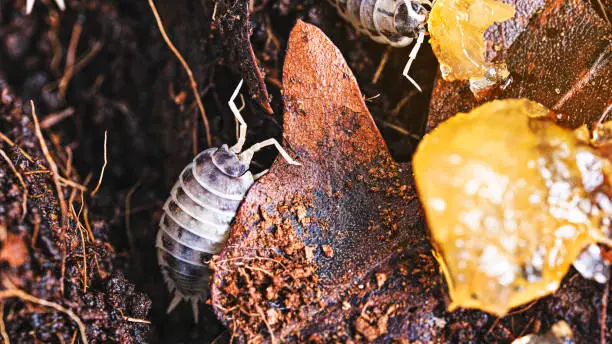 Total Time Needed:

5 minutes
Steps to feeding isopods
Step 1: Gather the appropriate food items
Isopods feed primarily on high-protein pellets, soft fruits, vegetables, and occasional treats such as decomposing feeders.
If you are feeding soft fruits and vegetables, make sure they are chopped into small pieces. If you are offering small remains, make sure they do not have any pesticide residue.
Step 3: Place the food in a shallow dish
An isopod is a ground-dwelling creature that prefers to feed on shallow dishes.
Step 4: Place the dish in the enclosure
Place the dish of food in the enclosure, preferably in an area that is easily accessible for the isopods.
Step 5: Monitor the feeding process
Make sure to observe the isopods while they are feeding to make sure they are eating the appropriate amounts and that the food is not being wasted.
Step 6: Replace the food as necessary
Replace the food in the dish with fresh food once you notice that the isopod is no longer interested in your offerings.
Step 7: Keep tidy & enjoy the experience!
Remove the shallow dish and replace it with fresh food every few days.
Common Mistakes 
One common mistake many isopod owners make is feeding their terrarium pets grains and nuts.
While these foods may seem like a safe and convenient option, they lack essential vitamins and minerals that isopods need to maintain their health.
Additionally, some grains (e.g. corn and wheat) can be difficult for isopods to digest, potentially causing them digestive distress.
To ensure a healthy diet, avoid giving your isopod grains or other processed human foods.
Another mistake many isopod owners make is overfeeding their critters. Isopods don't need to eat every day, and if they are overfed, they will be at risk of becoming overweight and unhealthy.
Keep in mind that isopods typically eat their leftovers, so it may be best to start with a small portion and adjust it as needed.
Finally, if your isopod appears to be hiding and refusing food, it may not be interested in eating or it may be unwell. If this is the case, seek professional advice from a vet or experienced isopod breeder.
Conclusion
Feeding isopods in terrariums can be fun and rewarding if you do it right. With this isopod food guide, you have all the knowledge and resources you need to craft balanced meals and discover nutritious snacks to keep your pet healthy.
Nutrient-packed proteins, calcium-rich vegetables, and snacks that offer a burst of energy can be creatively combined to provide your isopod with a unique and tasty experience.
With the right knowledge and ingredients, you can ensure your isopod is growing and developing while having a blast every mealtime.
Frequently Asked Questions