Hey everyone, I have a really fun project for you and your little ones to do! If you haven't already seen it, the movie Encanto is amazing. After watching it the other day with my son, I felt inspired to create a habitat that resembled a tropical Colombian hillside.
If you aren't familiar with what a bantamarium is, I strongly recommend you take a look at this deep dive I put together. In a nutshell, it's a concept I've been working on where we bring a diorama to life. The goal is ultimately to make photo-realistic vivariums anyone, no matter the skill level, can make!
We don't talk about bruno!
I wanted to create a copyright-friendly Encanto-themed terrarium so that there are no worries about Disney knocking on you or my door lol. So we will have to find a strategic way to bring Bruno back home where he belongs. I have some ideas but let's make the terrarium first and discuss more later.
Making Disney's Encanto Terrarium
The vision for this project was to have steep hillside scenery with a Colombian-style mansion overlooking the water. In order to capture this idea in a jar, I will have to cleverly utilize the given space. Let's breakdown the material list:
Materials:
Colombian Mansion Decor:
At the time this tutorial was written, I offered these models unpainted and unassembled. we are proud to announce that our terrarium decor has been improved since then and is now available completed with color. If you so choose to add personalized details, these models are still paintable. Just remember to properly seal them with an aquarium-safe sealant and allow it to cure before use.
Making A Colombian hillside terrarium:
For this one, I'll start with the base layer substrate to make things easier when we move on to the hardscape. I pour in a couple of cups of eco-complete aquarium gravel to set up a foundation. This part doesn't have to be pretty as well adjusted as we go.
For the choice of substrate, I'm using my favorite vivarium stone, black lava rock. This stuff is amazing to work with and has lots of porosity which makes it ideal for healthy bacteria to congregate. The formation I'm forming is a c-shape to help separate the water feature later.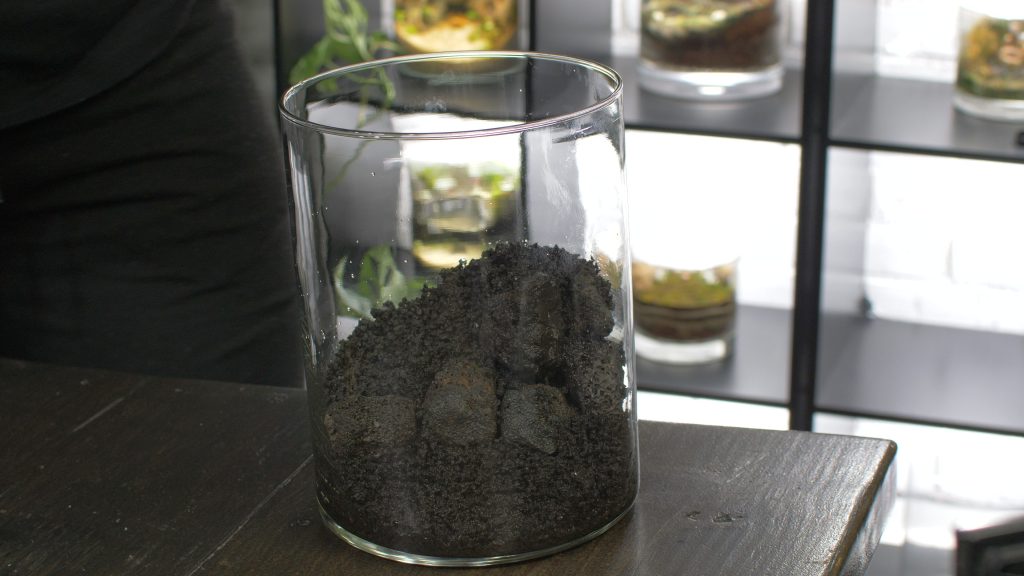 Once the hardscape and substrate are somewhat organized, I place the model in and prepare the terrarium for plants. At this point, it's up to you if you want this terrarium to have aquatic features or not. I think both look great for this type of setup. If you are going for the aquatic setup, add water now and fill the front with sand to further enhance the look.
Best Mini Terrarium Plants
I felt like mood moss was the appropriate choice for the primary vivarium plant in this Encanto terrarium. It easily took shape as I started to place it around the hardscape. I slowly started applying it to the rear of the glass as well, creating this vertical slope.
Once I finished up with the moss, I threw in various types of vining plants to add character to the scape. A few pieces of nerve plant will add color to the Disney-themed terrarium but may eventually outgrow this setup. Some floating fern was added to the water portion as well to tie it all together.
To add some final touches of color to the mansion, I took a few pieces of preserved lichen and placed them around the house. This completed the look and the lichen somewhat gives a convincing look of flowers.
Mini Aquarium Animals
So now that our tanks are complete, let's talk about Bruno. I ran a poll on TikTok and asked my followers to come up with ideas for potential inhabitants that could possibly live here. There were a ton of really great ideas but one really stood out to me.
A Thai micro crab could be a good fit for this setup. I will have to look around to see if I can find the aquatic crab but I like the possible idea amongst ideas like isopods or a millipede.
Mini Aquarium Care
The care requirements for this enclosure will be monthly water changes and some light pruning. The fact that this Encanto terrarium will have a closed lid makes regulating humidity simple. I won't worry too much about watering the terrarium plants either due to the constant hydration from the water circulation.
Final Thoughts
I absolutely love how the Encanto terrarium came out. It instantly just became one of my favorites. My son's a little young to put it together but I can tell he does like the idea of having Disney-themed terrariums around the house. If you enjoyed this tutorial and like the idea of me doing more like it, give this a share and let me know!
If you're interested in seeing updates on how this as well as other enclosures progress follow me on social media. If you'd like to get your tall tweezers on one of these limited edition vivarium decors yourself, check them out in our shop.